Our Services
We offer a reliable steeplejacks service working on repairs and maintenance of chimneys church's and other high rise buildings. We have many years experience, offering a fast and reliable service, which we have provided for many Blue Chip companies. We offer our services nationwide. Please get in touch via the contact form or direct on 0121 327 6376.
The company has been in operation for over 30 years. We offer a wide range of services to industry and commerce. Our clients include the Home Office, HM Prison Service, West Midlands Police, Birmingham University, Nuffield Hospitals, Dudley Metropolitan Borough Council, Wolverhampton City Council, Ministry of Defence, Birmingham City Council Aston University, Orange Communications, Thomas Vale, Rail track, Mansell Construction, Kendrick Construction, Wates Construction, Alcoa, T Mobile, Lord Chancellors Office.
Our extensive steeplejacks portfolio generates repeat business being a well trusted and experienced company. If you have any queries please feel free to get in touch and we will be happy to help.
We are an accredited with the SAFEContractor Constructionline System and CHAS
We have over 30 years Steeplejacks & Restoration experience. Our clients include:
Home Office
West Midlands Police & HM Prison Service
Ministry of Defence
Walsall Housing Group
Tomlinsons Builders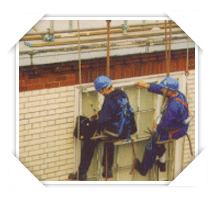 Church Restoration
We carry out extensive church restoration including masonry repairs, lead work, flag poles, re-gilding of weather vanes and upgrading of lightning conductors.
Using our experience and knowledge gained within the industry we safely access church spires to undertake restoration projects. If you feel your church could benefit from restoration work please get in contact via our contact form or by calling us direct and we will be happy to discuss your restoration project.
Birmingham City Library
A massive remedial programme to combat the failing concrete panels on the walls and roof of Birmingham City Library – one of the largest outside the capitals of Europe – is currently being undertaken by Birmingham City Council. Emergency measures to prevent chunks of the panels from falling onto public concourses have required 'wrapping' huge areas of the buildings exterior in polypropylene netting and carrying out tests to determine the best corrective measures. The building was constructed in the late 1960's early 1970's and the walls are clad with recast concrete panels.
The roof is also of pre constructed interlocking concrete panels, and it was from here that the problems started with pieces of concrete shale falling off onto public concourses below. The first phase of the works involved wrapping the roof in netting, and this was following by the need to 'net' the walls as the concrete panels there also began to fail and shear off. The storeys of the four-storey building oversee each other, with each storey projecting about 1 ½" meters over the one underneath (rather like an inverted wedding cake). As a result of weathering and carbonation, the bottom edge of the top tier of concrete panels has corroded.
Emergency measures involve the use of polypropylene netting, fixed to stainless steel wire rope which is secured back to the structure of the building with stainless steel eyebolts, in order to catch or to prevent any loose concrete from falling off. A monthly visual inspection is carried out with binoculars and any loose concrete is tied to the structure with netting. A Steeplejack is then employed to rope down and slit the netting and remove the loose concrete and then fix the netting securely back in place. Tests onto the failing concrete are currently underway to determine the best means of repair and several options are being considered as a result. One of these options is to over clad the GRP mineral finished board. Another option is to tackle the problem electrochemically, by exposing a portion of the bar attaching sacrificial anodes to it, so that these small areas of zinc will corrode rather than tan the steel and thereafter to teat the surface of the panels with a substance to prohibit carbonation effectively by making it waterproof.
The roof netting has been in place for 11 years, and the top tier of concrete was netted approximately 7½ years ago. As a result of pieces falling off the lower tiers (which are protected to some extent by the overseil of the upper tier), further netting of these areas was required and has been in place for three or four months. The main contractor for the works is J Lacey Steeplejacks. Test panels of concrete cladding are now being put in place on the walls and will need to remain in situ for two to three years before the best method of concrete stabilisation is determined.