Lightning Protection Coventry
One of the problems that many of us won't even have considered before is the risk of your home or property being hit by lightning. Installing lightning protection can be a sound investment that can make a difference for years to come. It can not only protect the property but also therefore the people who will be inside the property at any time. We offer to install lightning protection throughout Coventry for a great price so you can be sure that you are getting the best quality service for the best possible price.
All of our team are both experienced and professional when it comes to installing methods to protect property from lightning. It is down to them that over the years we have built up a great reputation throughout the Coventry area. Whether you are concerned about your domestic, commercial or industrial property we will be able to assist you. A member of our team will come out to visit your property at a time that is agreed with you.
Our extensive steeplejacks portfolio generates repeat business being a well trusted and experienced company. If you have any queries please feel free to get in touch and we will be happy to help.
We are an accredited with the SAFEContractor Constructionline System and CHAS
We have over 30 years Steeplejacks & Restoration experience. Our clients include:
Home Office
West Midlands Police & HM Prison Service
Ministry of Defence
Walsall Housing Group
Tomlinsons Builders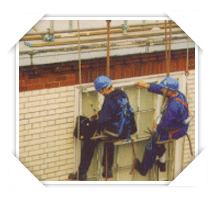 Lightning Surge Protection Coventry
There are options that you can choose from when it comes to protection including lightning surge protection. This helps to protect electrical equipment with the building itself. When the equipment is plugged into a mains power supply it is recommended that you invest in this type of protection to give yourself some reassurance that if lightning as to strike your electrical equipment would be far better protected.
For more information on lighting surge protection in Coventry or any of our other service contact us on 0121 327 6376.