Steeplejacks Coventry
If you have a task that needs completing whether it is on a cooling tower, a church steeple, an industrial chimney or any other high structure, here at J Lacey we are able to help. We specialise in installing relevant protection for buildings from lightning as we know that if damage occurs then it could result in a hefty bill that can be difficult to pay. It is therefore a far more sensible solution to have protection installed before any issues occur.
Whether it is a home or business property our team of craftsmen are able to carry out the job efficiently. With many years of experience, our team of steeplejacks work throughout Coventry and their dedication has resulted in a glowing reputation throughout the area. They are all trained and highly experienced, therefore completing every job to a high standard and most importantly as safely as possible.
Our extensive steeplejacks portfolio generates repeat business being a well trusted and experienced company. If you have any queries please feel free to get in touch and we will be happy to help.
We are an accredited with the SAFEContractor Constructionline System and CHAS
We have over 30 years Steeplejacks & Restoration experience. Our clients include:
Home Office
West Midlands Police & HM Prison Service
Ministry of Defence
Walsall Housing Group
Tomlinsons Builders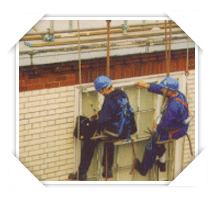 Debris Netting Coventry
One of the services we are able to offer is debris netting throughout Coventry. This is ideal if the property that you are working on has experienced structural damage or just general wear and tear. To eliminate the risk of any injuries being caused due to falling debris, the debris netting will act as a shield with the ability to catch falling pieces. These are just some of the services that we have to offer.
If you would like any more information on our team of steeplejacks or the debris netting that we supply then call us on 0121 327 6376. Alternatively, send us an email via our contact page and we will get back to you as soon as possible.