Lightning Conductors
We specialise in the installation, testing and maintenance of lightning conductors protection systems in order to protect persons and property from the natural occurrence of lightning. Lightning can cause various amounts of damage to buildings and its electrics if not properly protected against this.
With the correct lightning protection systems in place you can reduce the risk that your building does not run the risk of being vulnerable against this unpredictable occurrence. Different buildings and homes run different risks from being struck by lightning therefore if you would like any advise on lightning conductors for your premises then get in touch with us and we would be happy to discuss this with you.
For more information on our SafeStrike Lightning Conductors Protection System please download our PDF brochure.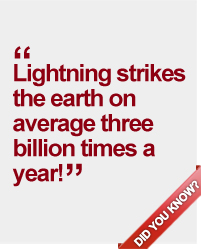 We specialise in the installation and testing of lightning conductors protection and earthing.
Suppliers and installer of SafeStrike Lightning Protection Systems to NF-C-17-102 (Sept 2011) appendix 'C'
Electricity at Work Regulation and BS EN 62305:2011 Protection against lightning compliant.
Surge Protection
To protect electrical equipment within a building that is plugged into a mains power supply we recommend investing in surge protection equipment. If lightning were to strike your building your electric equipment runs the risk of damage from voltage spikes. We can help prevent this using our industry knowledge and equipment. For more information on surge protection please don't hesitate to contact us.